First of all before I get into this amazing day, I have to thank everyone who gave Kiley & I this opportunity. Thanks to Neutrogena (the contest sponsor) and CTV for everything they did – especially to CTV for being so accommodating when I kept changing which days I was available to go! Haha. And thanks to everyone at Epitome including Stephanie, Abby, Krista, the entire cast & crew for making this day so special. You guys were all so nice and welcoming – I felt like I was part of the Epitome family!
For those of you who don't know, I won the Ultimate Fan Contest. The prize included 2 nights hotel in Toronto plus a trip to the set of Degrassi!! I submitted an entry for the contest earlier this year and was one of the top 10 finalists. From there, Degrassi fans were given an opportunity to vote for who they thought the ultimate fan was. And I got the most votes! Once again I want to thank everybody who voted for me, especially Degrassi Nation and Degrassi Blog! I'm not sure I would've won if it wasn't for you.
Accompanying me on the trip was my Degrassi friend Kiley. She was actually another of the top 10 finalists. I've known her online for a while because of her blog, but then we met up in real life at the Degrassi Takes Manhattan premiere last month. Now we are really good friends and we had a blast together!
Our day started bright and early in the morning – almost too early in fact because we missed our 7am wake up call. But it was fine – we still had enough time to get ready and grab an over-priced smoothie before we left. At 9am we got picked up in fancy car and driven to the set. Our driver was really nice; wearing a fancy suit and opening the car door for us and all that. I was surprised at how long it took to actually get to the set. Our hotel was located in downtown Toronto, but the set is actually on the outskirts.
I think we arrived at around 9:30. As soon as we pulled into the parking lot I think I did a little fangirl squee just at the sight of the Epitome Pictures sign out front. Our driver didn't really know where to take us, so he drove right in through a gate towards the actual school parking lot with the Degrassi basketball nets and everything. I was looking around in amazement.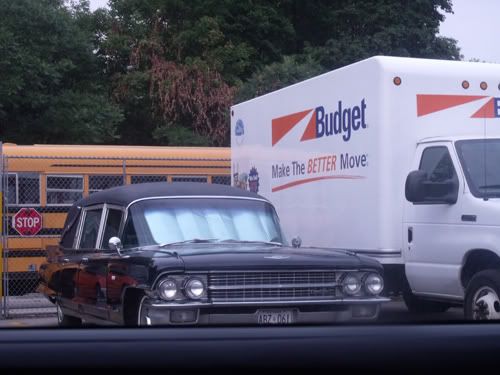 He got out of the car to ask someone where we should go, and as soon as he left me and Kiley started totally freaking out. We could see the front of the school off in the distance. And then we noticed it…. MORTY parked right beside us. I took this picture of it through our car's window. I think we were more excited to see Morty than the actually cast members. Lmao. But we were sad that Eli's skull is still missing… More on Morty later!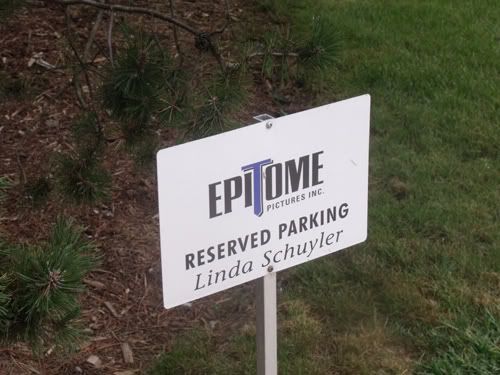 Our driver got back and took us back to the front entrance where the reception area is. He dropped us off and told us to go inside the front doors, but not before I took a picture of Linda Schuyler's very own parking spot!!! Stephen Stohn has one right beside hers too. Front & center for the king & queen of Degrassi. Unfortunately we didn't get to meet either of them today but at least I got to see where they park!!
Once we got inside, a very nice man at the reception desk asked us if we were the contest winners. We said that we were, and he told us to wait for a moment while he told everyone that we had arrived. But we didn't actually end up sitting down and waiting – we were too busy admiring this room and taking pictures! There were Degrassi press binders on the tables; the couches were really nice and very comfortable. There were Degrassi posters all over the walls. If you turn one corner, there is a glass case with a bunch of their awards on display, including the Gemini Award seen above! You can also see one of their Teen Choice Awards in the corner of this pic.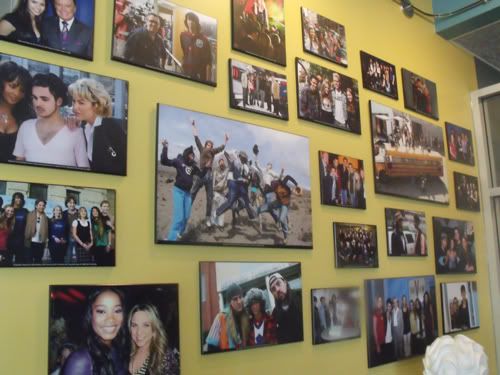 They also have this entire wall of Degrassi pictures. The one in the centre is the cast on one of their Free The Children trips. They have pictures like this all over their offices. You can tell that everyone at Epitome is really proud of Degrassi and so passionate about what they do. It's amazing to see people so dedicated.
I also asked Kiley to take a picture of me standing beside their other Teen Choice Award – also on display for everyone to see. Where else would I get this close to a TCA??? Epic.
Soon after we met Abby, Krista, and Ian. You guys probably all know Abby – she works at Epitome. Krista & Iain I had also talked to briefly when we had the Degrassi bloggers video conference with Degrassi Nation & Degrassi Blog a few weeks ago. They all came out and introduced themselves. It was great to finally meet them in person! We pretty much spent the entire day with them and they were all so nice. They made us feel so welcome, offering us drinks and asking us where we wanted to go and everything.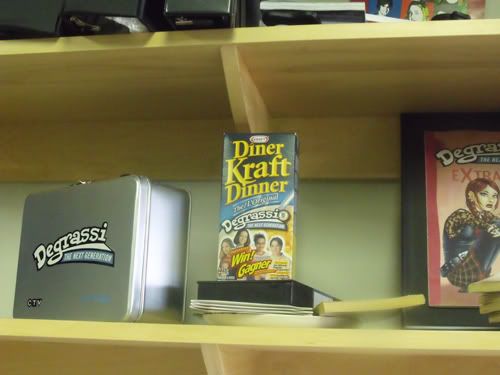 Abby and Krista showed us their office. It was really big and like everywhere else in the Epitome building it has all this Degrassi memorabilia around. This is a picture of the old Degrassi Kraft Dinner box from back in the day. There you can see really old pictures of the cast members. Remember JT's own KD mix? LOL.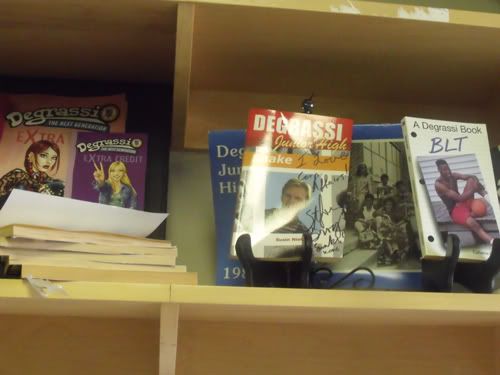 This is a retro Degrassi Junior High novel signed by Stefan to Corporate Affairs. They have that up on the shelf as well. You can also see some other old Degrassi books in the background. Seriously this kind of stuff is everywhere. It's a Degrassi fan's dream.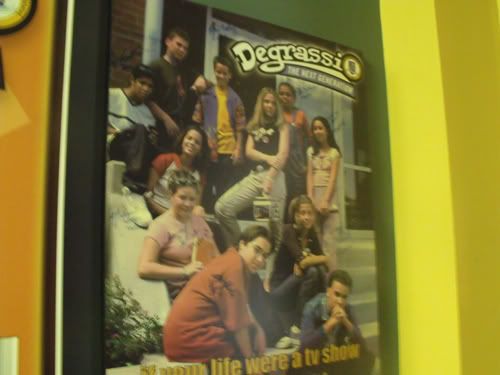 Like I said before, the walls in the hallways are completely covered with posters, articles, autographs, etc. Here is one of the posters with the old logo "if you're life was a TV show this would be it." That's even pre-"It goes there!"
Next we got invited in Stephanie Cohen's office where we got to sit for a bit and chat with her, Abby, Krista, and Iain. Her office is amazing. You guys know that huge "Degrassi" sign at the beginning of the carnival promo? That's now hanging on her wall! She also has all sorts of Degrassi posters around and a big comfy couch!
First she gave us the rundown on spoilers – basically that we aren't allowed to give them. So some of the pictures that I took you guys wont be seeing until later after the episodes have aired. I also had to blur out a few things in my pictures so that I don't give anything away. But I did find out Jenna's secret (don't worry you guys will soon!) and it is definitely going to be an interesting storyline to say the least. Also, something happens at the end of the summer season that has a big impact on the 2nd half of season 10. I can't say what exactly it is, but there were a lot of new posters up that I can't show you guys pictures of. I will leave it at that
With Stephanie, we also told them what we are up to now (me & Abby went to the same university ironically and we were both there around the same time!). Stephanie asked us what our least favourite episode is. I told the truth and said Spinner and Emma getting married… lol. Yeah still don't like it lmao. But then she said that her least favourite episode was season 2′s "Relax." I was like no way that's a good one! Liberty goes Napoleon. Classic. Then she asked what our favourite episode was and I said the Paige season 2 episode – "How Soon is Now." It's such an underrated episode in my opinion. Me & Kiley both told them that our favourite character right now is Fiona ♥ but my favourite character changes every season practically. They also asked what other shows we watch and I immediately said Skins and they all agreed with me for its awesomeness.
Then we were allowed to ask them questions. So first Kiley asked them about Declan and whether or not he was coming back. While I don't know how often he is going to appear in season 10, I can say that he does appear in more episodes. They said he was just there filming recently. They explained that TeenNick couldn't think of a way to fit him in the carnival promo (with him being away for so long), so that's why he wasn't there. I also asked about the soap opera style and whether or not they would be doing it again next year. Of course it is going to be a while before season 11 is ordered and confirmed, but they did say that (at this point) it looks as though Degrassi will have the same format next year. It's been really successful so far.
While we were there, Jessica Tyler stopped in the office to drop something off for the upcoming India trip. So we were introduced to her and she was really nice and friendly. Also later Melinda came over to say hi. You can really tell that everyone at Epitome is really good friends. And the cast are just another member of the family.
Next we started the tour. Because I won the contest, we had a guy from CTV follow us around everywhere, taking pictures of me for the contest website. So he came along for the entire tour. But first he wanted pictures of us walking into Epitome (even though we were already inside). So we had to go outside and then pretend to be walking inside for the first time. It was really funny.
Anyway first up we walked over to where Stephen & Linda's offices are, and they let us hold two of the Emmy Awards that Degrassi has won! I don't have a picture of it on my camera because the CTV guy took the picture, but it was so so amazing. I couldn't believe I was holding a real Emmy Award! It was actually surprisingly lighter than I thought. But still so beautiful.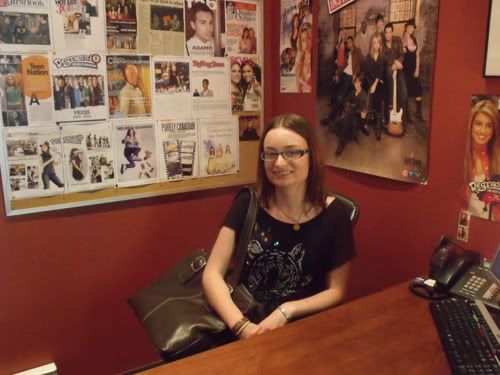 Next we walked down the hallway and they showed us around a few of the offices. This picture above is of me sitting in Iain's office. I asked him if I could sit in his chair and pretend like I worked at Epitome. Lmao. You can see that he has all sorts of Degrassi stuff on his walls.
We also got to meet the editing department and go inside the editing booth. We got to see a very interesting picture of Dave on the screen that I'm not allowed to say anything about. But let's just say that he was holding something he shouldn't be holding… dot dot dot! The editor working there was very nice; we got to shake his hand and CTV camera dude took a picture of me standing with him.
One of the coolest things about the day is that every time we would meet someone (whether it was a cast member, crew member, whatever) they would always introduce me as "Erin from Degrassi-fans.com." And surprisingly not once did anybody say "what's that?" They all knew exactly what it was and everyone was so eager to meet me! It was amazing. I never thought that when I started this website I would be meeting the amazing people of Epitome and they would already know who I am!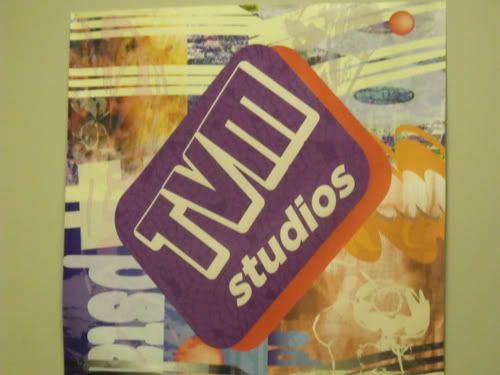 As we continued walking through the offices, we kept seeing things that we recognized from the episodes! This TVM sign was just up on a wall somewhere!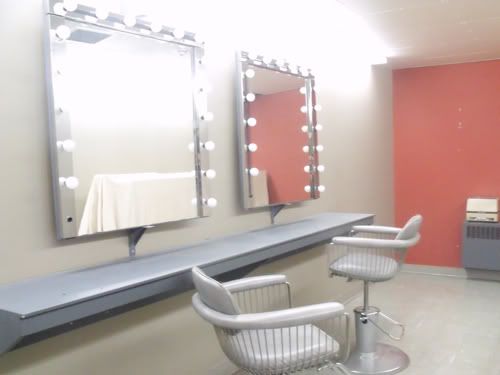 And this is the TVM room where Fiona is getting her makeup done.
We also walked past a very secret room that I'm not allowed to tell you about because it involves this mysterious "boiling point" event that's coming up soon. But I will tell you that it's very dirty. And it has appeared in a couple of Degrassi episodes before very briefly…
Next we walked over to the food area, and here is a very stupid picture of some of the bowls of food that were out. They have all sorts of stuff there and drinks whenever you want them. There were lots of people around and everybody was super friendly to us.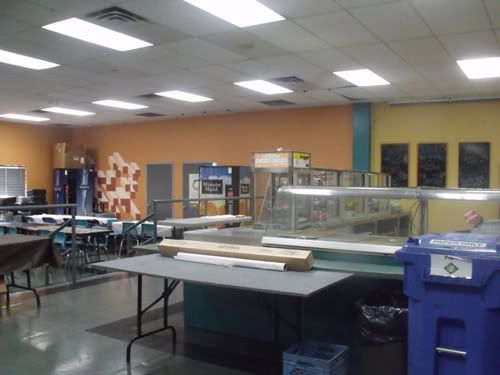 Just past that was the old Degrassi cafeteria. In season 10 they are using a new cafeteria set (you'll see that later). So now this one is just used for the cast & crew to have lunch in. It's this big open space with lots of chairs and tables all around.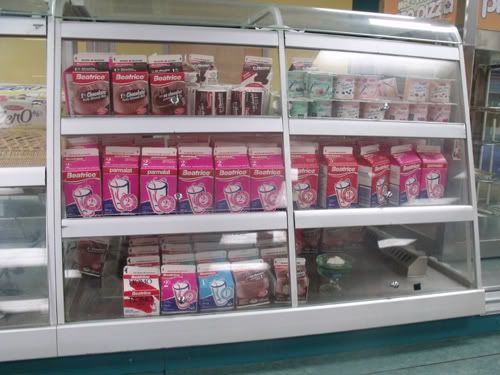 All of these milk cartons are empty. And also probably really old considering it was a while ago that they actually filmed in here! Lol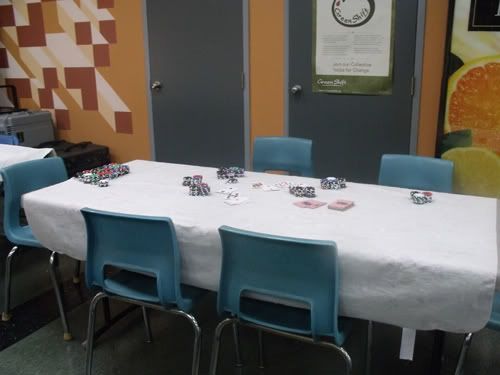 Apparently some people like to play poker here on their lunch break!! hehhe
This is me sitting at one of the tables, just because I had to get a picture of me at the Degrassi cafeteria. It was so cool just to BE in the room where so many amazing storylines have taken place.
Don't ask me what this inflatable cow is for because I have no idea… sometimes they just have random stuff lying around! Lol
This is a picture right outside of the cafeteria of the board they used to raise money for their Free the Children trips. Their progress is mapped on this board. Pretty neat huh?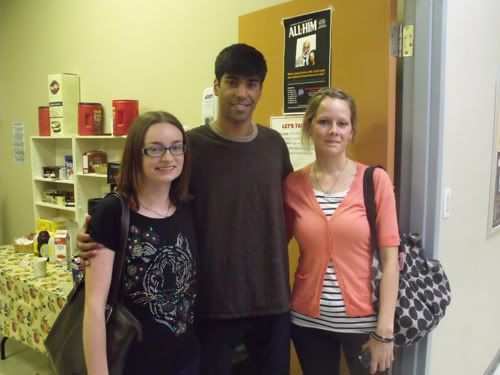 As we were leaving the cafeteria we ran into Ray! We met him, shaked hands, and got to take this picture. He was really nice (as always). Kiley told him Ashley from My Date With says hi and he thought that was cool.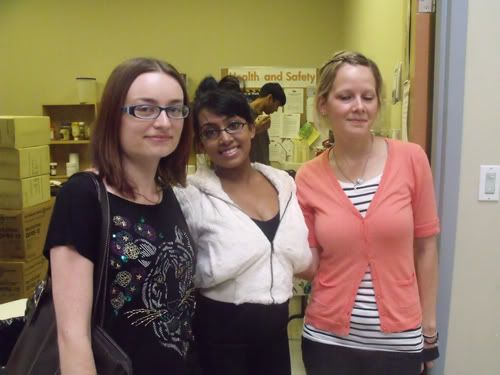 Melinda was also there, complaining that she didn't look her best that day when clearly she looked amazing! She just had a very long flight the night before. So we got to take a picture with her as well.
Next we got to go into the first of many Degrassi classrooms. I freaked out a little as soon as we walked in here. It looks like a regular high school classroom. There are posters all over the walls, and lots of desks as you can see. I think this is the English classroom. Me and Kiley were just wandering around, admiring everything. Lol. I had to blur out the chalkboard in this picture because it gives something away.. sorry guys!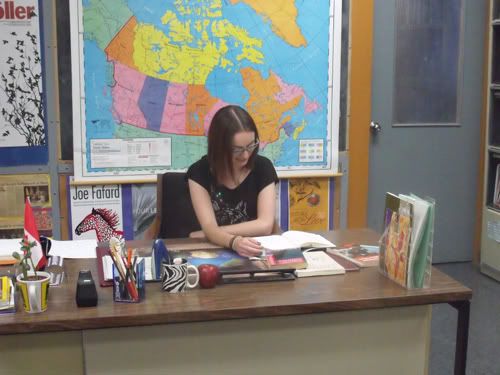 This is a picture of me at the teacher's desk. I personally requested for this picture to be taken. There are all these books and math quizzes and stuff like that on the desk, like any normal teacher. As you can see here I'm pretending to read.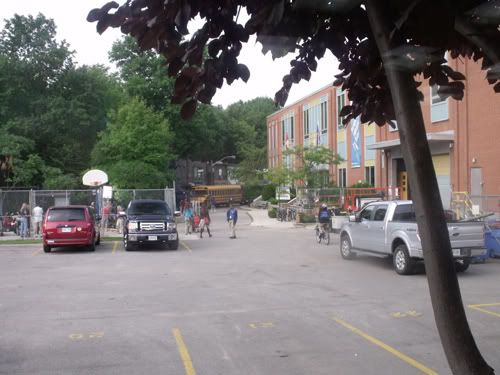 Outside of the window, we could see that they were filming something in front of the school. It's so funny to watch the extras. They just walk or bike back and forth over and over again….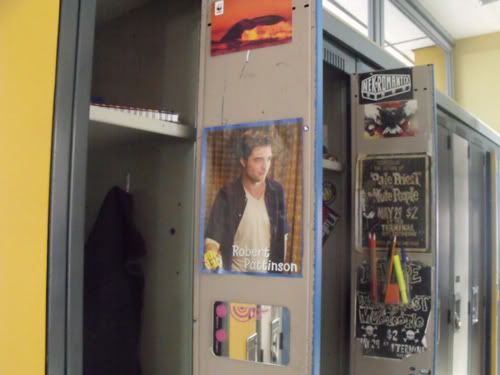 Now, Eclare fans, you better appreciate this picture! After the English classroom, we got to check out some of the lockers. And these are Eli & Clare's lockers side by side! Clare's has a picture of Rpattz on the door and inside there is also a picture of Taylor Lautner. Eli has all of his interesting Eli style stuff. Isn't it cute that their lockers are so close? But they did tell us that locker locations tend to change all the time due to convenience and where they want to film the scene.
This is the art room, and like the English classroom, it looks so real. There are paintings all around that look like they could've been done by students. The desks are so big just like you've seen on the show.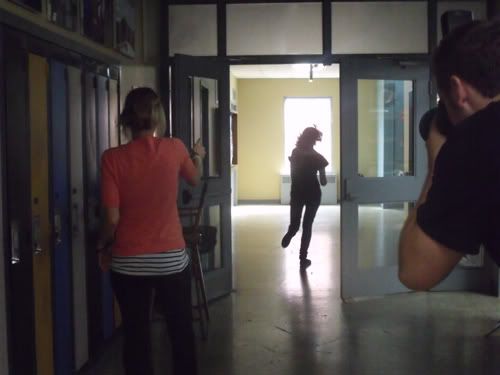 Right outside the art classroom is the exact place where Jimmy got shot, so Kiley and I decided to do a little reenactment. Of course I was Jimmy and Kiley was Rick. So here you can see me running away in fear of Kiley's finger gun! Ahhhhhhhhh
And here I am on the floor, about to spend the rest of my life in a wheelchair until I become a famous rap star.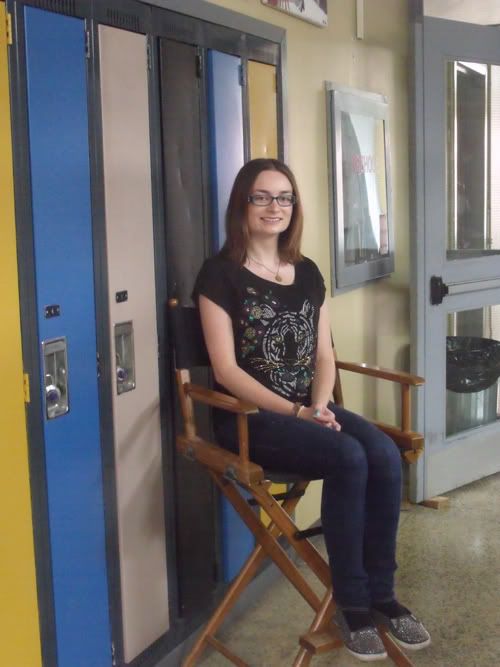 They also let us sit in the director's chair! Which was so cool but actually surprisingly wiggly. I'm not sure if I would want to sit in it very long.
Next we went to the science classroom, and as soon as I walked in I immediately knew that I had to take a picture of this. Honestly I have absolutely no idea what this thing is. I guess it's for frog dissection? Looks pretty weird though! Kiley and I were laughing at it.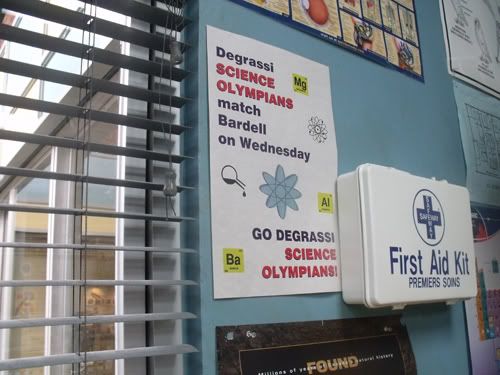 This is just one of the many posters on the wall, custom made for Degrassi by the props department I guess. Cool eh?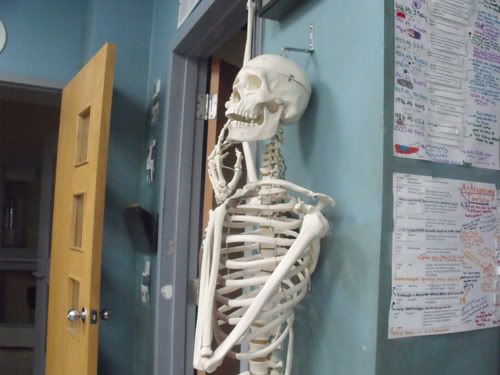 A skeleton on the wall! Hahahaha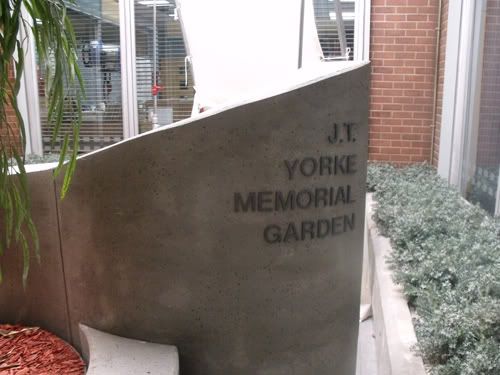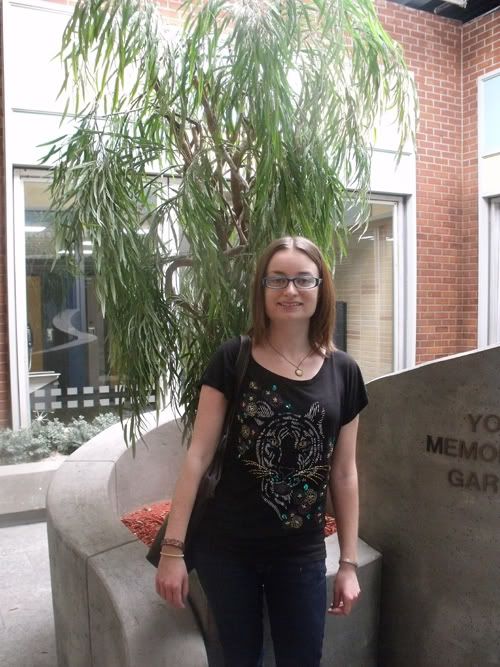 One of the places I definitely wanted to see was the JT memorial!! However, I didn't know that it wasn't actually concrete. I sat on it to take a picture but then I almost broke it! Lmao. It moved and I heard a crack and I freaked and stood back up again. You have to remember that none of this stuff is real. So hilarious.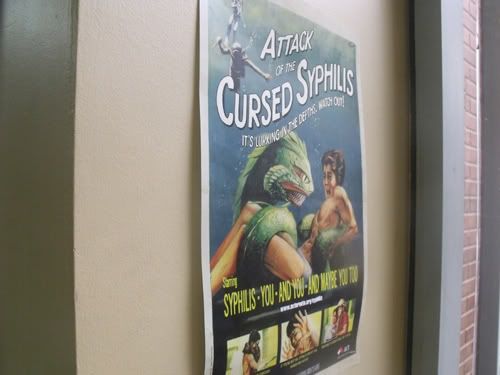 All around the school they have these hilarious STI posters. If only the Degrassi students actually read them more often. But they're everywhere and they are hilarious. Some of them are so weird, like this one about syphilis.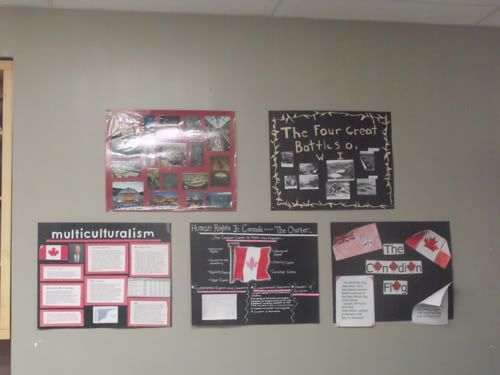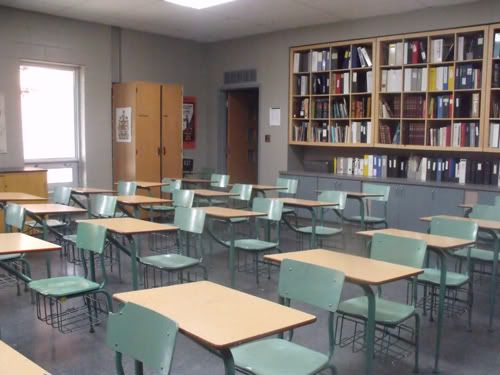 Next we went to the history classroom, which was cool for me because my university major was history. As you can see here they have all sorts of posters about Canadian history all over the walls. Other than that it looks similar to the other classrooms, just dressed up for history!
This is from the Degrassi drama room. I can't show you a picture of the stage because it gives away an upcoming storyline, but they have all these boxes around that say "Degrassi drama" on them.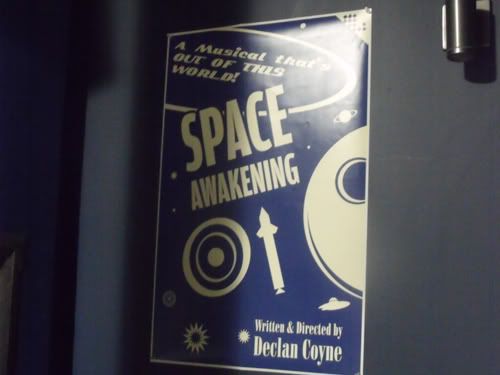 The old Space Awakening poster from season 9! lol
Then we got to go and see all the houses and rooms and all that. They are actually built inside, so they look real except there is no ceiling. It's really amazing to see how they dress them all up. This is Sav and Alli's house.
Ian telling us about the infamous couch where Sav gets lectured by his parents, makes out with Anya, etc.
They have family pictures like this all around.
Me & Kiley – Sav's long lost cousins come to visit!!
This is the new cafeteria they are using this year. You'll remember that Sav and Holly J. Had their speech in this room. It's really colourful. Not quite as big as the old cafeteria, but definitely more modern and fun.
Another poster they have on the walls about equality.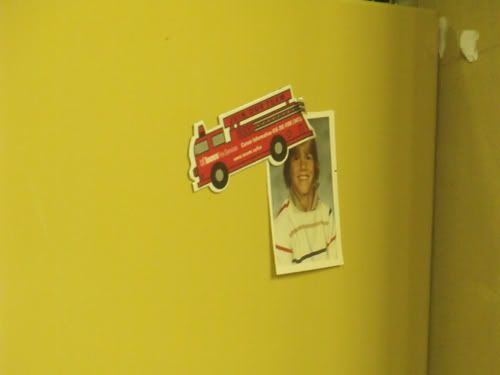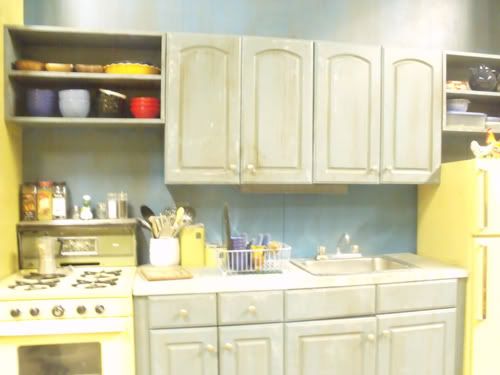 Next we saw KC's Mom's house. I think the top picture is supposed to be KC even though it looks nothing like him. That was on the fridge. The house is really old and run down but still has a home-y feel. It was funny because at first we couldn't figure out whose house it was but then Kiley identified it as KC's and we were all like yeeah definitely.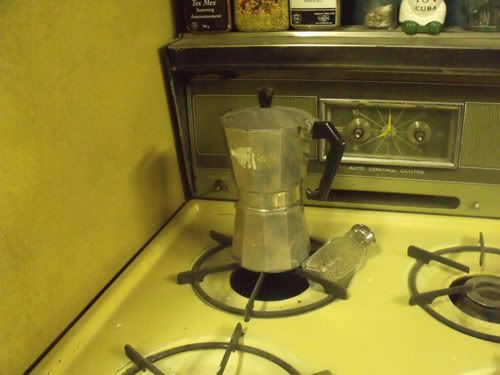 Some of the spices on her fridge, and an extremely old kettle. We looked in the cupboards for alcohol but didn't see any. Guess that's a good sign?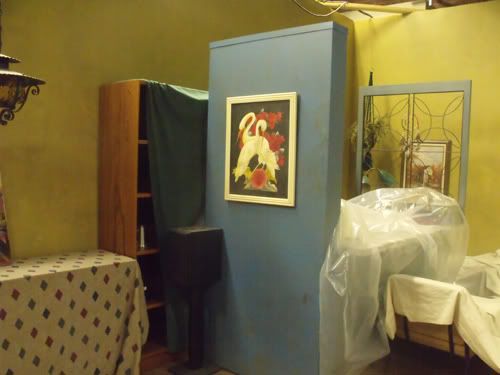 Some kind of weird swan picture. Haha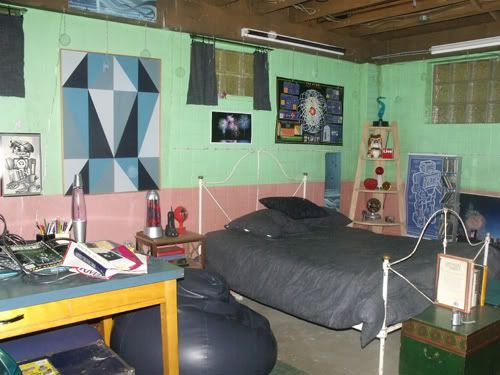 This is Emma's basement, although it's now Connor's basement but still as girly as ever! Lol. It doesn't seem like they've changed the set much at all. They have some bike magazines and stuff on the table but other than that you would think that Emma still lived there.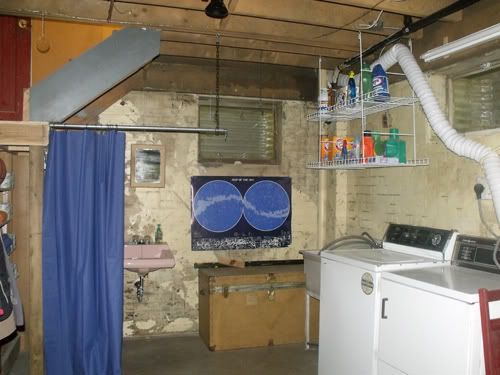 The infamous "slut window" (thank you Jake Epstein)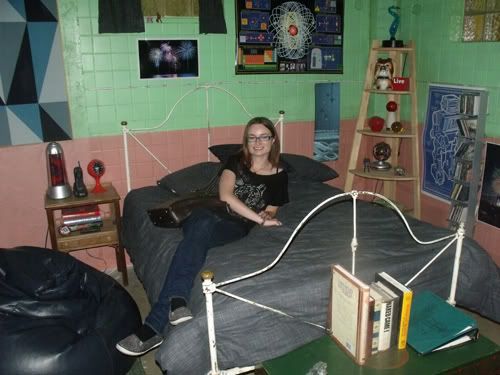 Me on Emma's bed. At least I'm not cutting out pictures of anorexic models…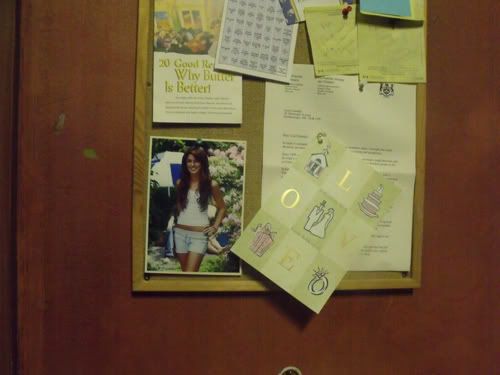 Then we found Clare's house but once again we couldn't figure out who it belonged to for the longest time. It wasn't until I found some really young pictures of Aislinn that I clued in. Also you can see pictures of Darcy around too!! It's so cool to see the little Darcy mentions that are still around the set.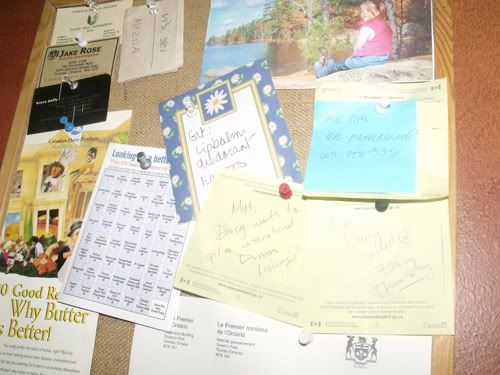 Look this note says "Mom, Darcy wants to get an international drivers license." So cool! It's like she's still around.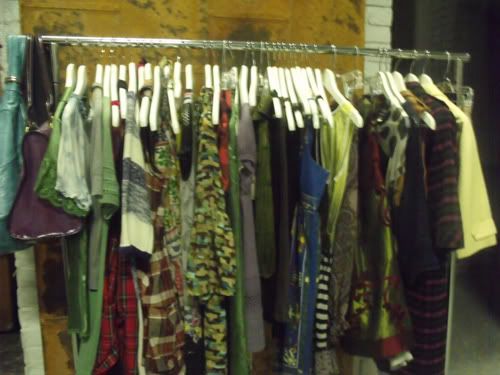 One of the coolest parts was seeing Fiona's house! This set was amaaazing. It was huge first of all, and the way it was decorated was beautiful. This is Fiona's rack of clothes. Kiley and I couldn't stop going through it all – identifying certain outfits from specific episodes.
Here I am holding up the dress Fiona was wearing when she kissed Declan. Think I look good in it? Lol I look weird and blurry in this picture actually.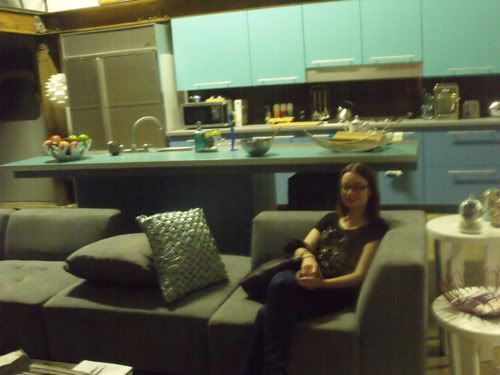 More from Fiona's house – her bed & therapy couch that I got to sit on!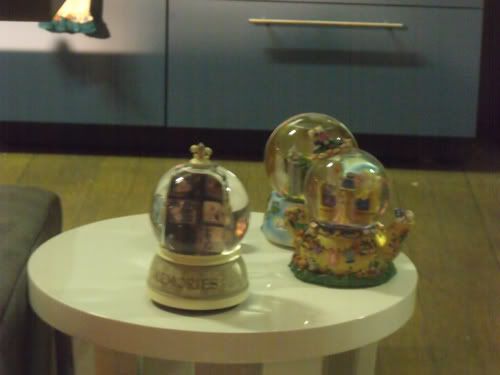 Her snow-globes!
An upstairs area with her designs!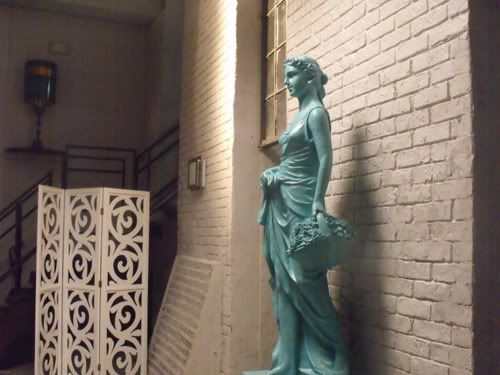 This statue was right out front of Fiona's house. I'm not really sure why it's there but it does look funny! It's like a full life size statue!
Fiona's vanity ♥
Another one of the hilarious STI posters! Sooooooo funny. These things are everywhere.
Then we made our way out from to the entrance of the school. There they have all sorts of trophy cases and such. Here is a picture of Stephen Stohn! Looking important as kind of an inside joke. You see all sorts of mentions of the Epitome people all around the studio.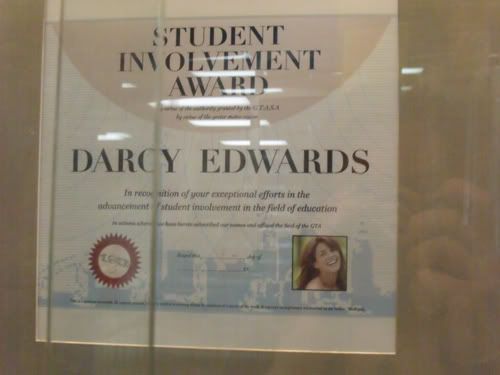 Darcy!!!! I loved seeing this because it's like they haven't forgotten her. She's still here in a trophy case!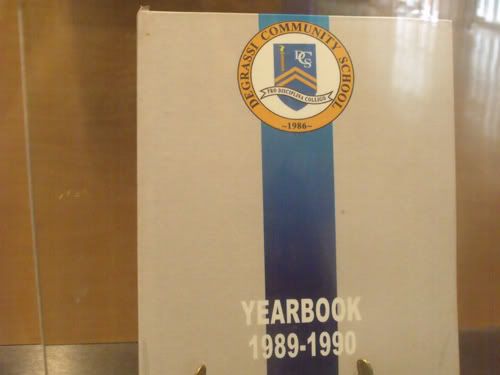 The old Degrassi High yearbook! I sooo wish we could look inside.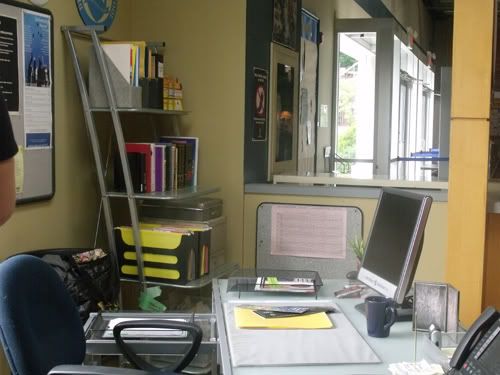 This is the main office all the students walk by in the morning!
The quote on the wall, if you ever took the time to read it.
hehe I got to sit at the desk! I like these pictures because they make me feel important.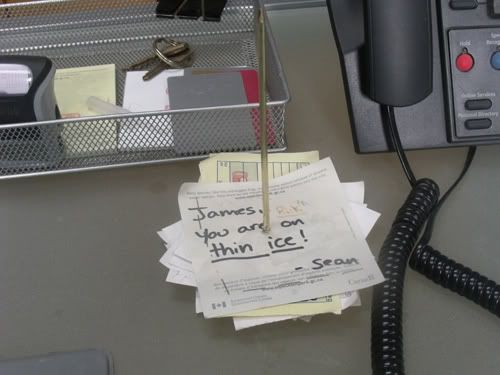 eeeeeek James? Sean? Rick? What is this? It was on the secretary's desk.
Then we got to visit the ultimate classroom – Media Immersion!!! And guess what was up on one of the shelves??? Emma's old class project!!! Me and Kiley noticed it right away and got all excited so we just had to run over and take a picture.
All of the computers in media immersion.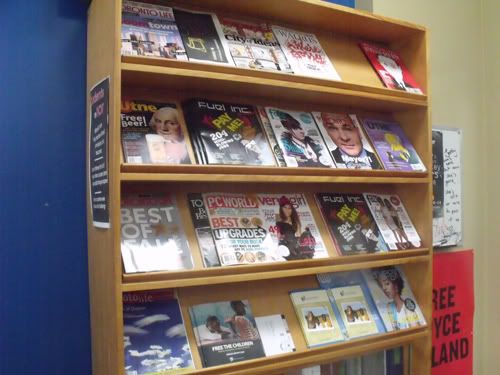 If you ever wonder what kind of magazines the kids at Degrassi read…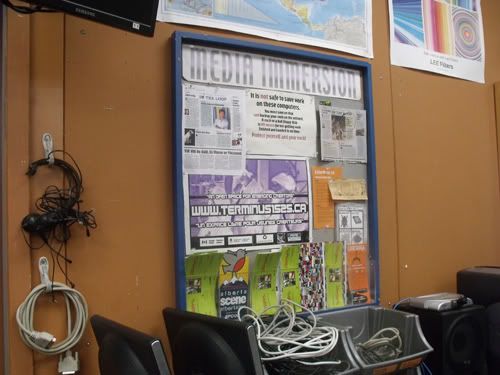 This just shows you what kind of detail they put into these sets.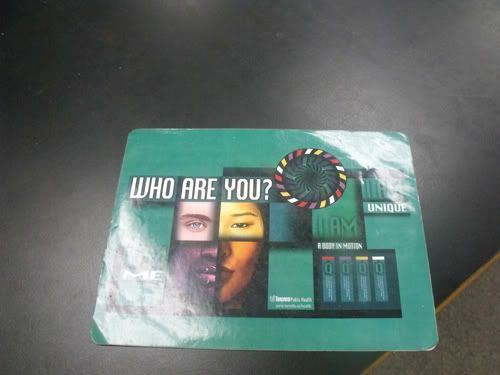 The mouse pads they use!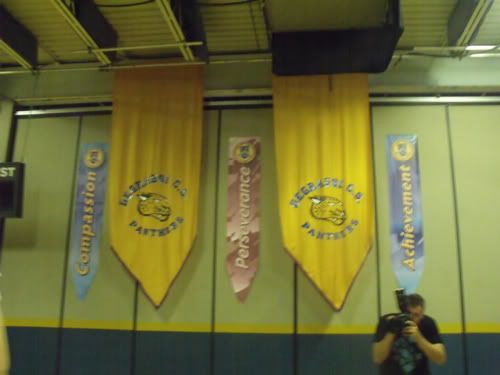 This is the gym! It's actually really small in real life – probably the size of my elementary school gym. But on screen they are able to make it look bigger with clever camera angles. These are the signs in the gym and that is the CTV camera guy who was following us around all day.
There is a balloon in the basketball net. We asked them why but they didn't know! Dance maybe? Lol
This is the locker room – they said it can either be boys or girls depending on the scene.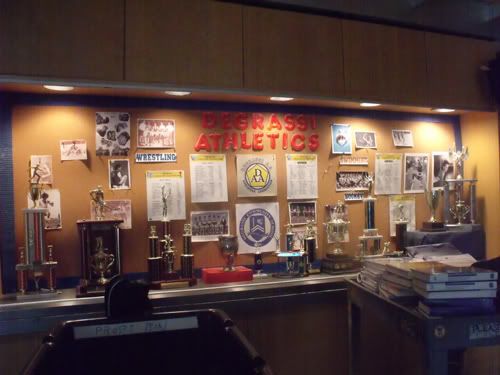 Then we went around again back to the entrance and the trophy cases.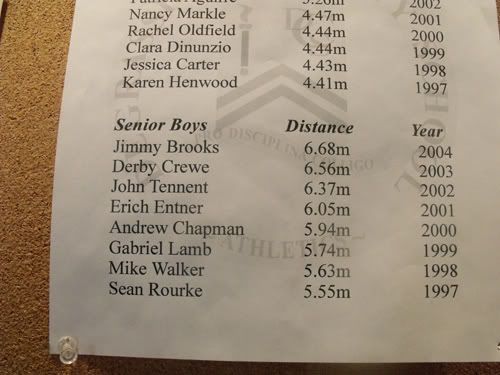 I took this picture just because you can see Jimmy's name!! awwww. Everywhere there are still little marks left by the old characters even though they don't go to Degrassi anymore.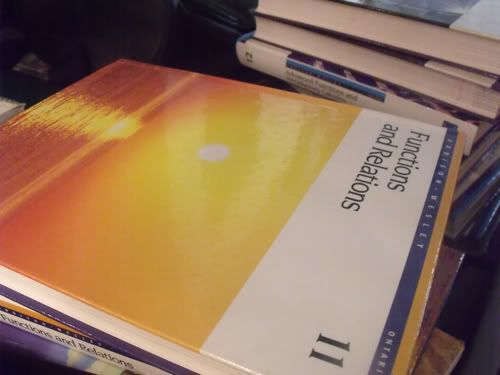 This is a real grade 11 textbook used in schools. I remember using it at my school!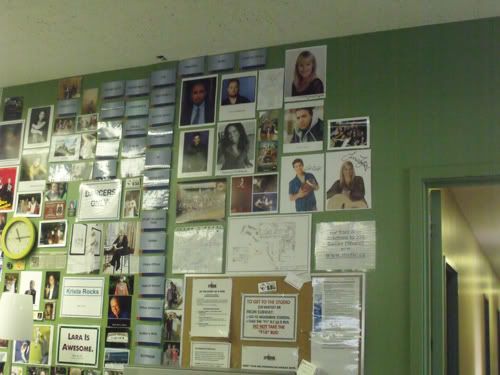 After the set tour, we got to go to the extras area. These are a bunch of random pictures they have up on the wall. Some are for the extras, some are just for fun!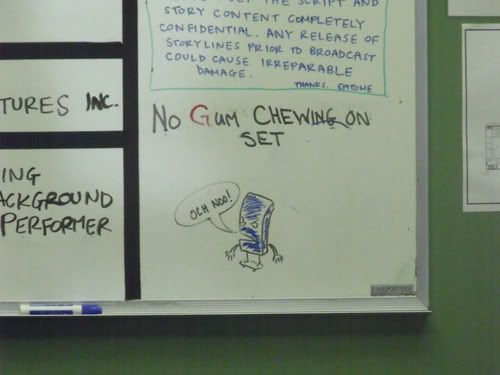 LOL isn't this sign cute????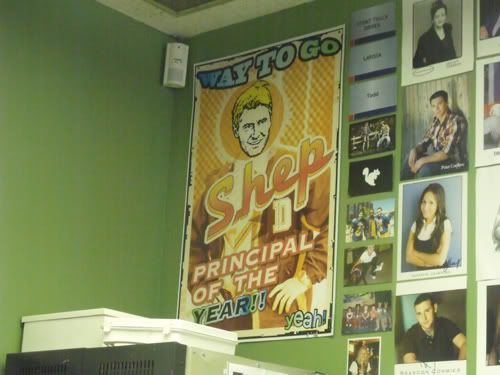 The woman working with the extras showed us this sign with the Shep!! Remember him? Haha
After seeing the extras holding area, we walked past the parent's room. Any of the actors under 16 must have a parent on set at all times. So they get to hang out in this room and also there is a monitor where they can watch the filming. There were also the cast dressing rooms we got to walk by, but we couldn't go in there for privacy reasons obviously.
Then we made our way over to the room with the pool table. This is where all the cast hang out in between scenes and all that. In addition to a pool table there are pictures all over the walls that they put up themselves. There is a computer where I'm sure they visit Degrassi-Fans.com daily! Lol jk jk. Ray was in there playing pool so we got to say hi to him again.
And then Sam came and we got to meet him and take a picture. I'm really really sad because I can't show you guys the picture we took with him. His clothing gives away a storyline. But I will post it as soon as I can! And I will tell the story to you guys now. He was soooo nice and once again they introduced me as "Erin from Degrassi-Fans.com" and he knew who I was right away. He was like "I think we've met before" (I talked to him at both the DTM and DGH premieres). He also told me that Charlotte was visiting Degrassi-Fans.com the other day in this very room, looking for a video or something. Inside I was like omgomgomgomgogm. He said that he really likes the site and all that. Yeah I still can't believe how nice he was being. We took a picture and I was like "wow you're tall" and he laughed at that. Really what can you say to a statement like that? Haha.
Jessica also came in and I guess I can show this picture with her because it doesn't seem to give anything away. She is also so nice and it seems that her and Sam get along really well. I am slowly being converted to Kenna people! You will be too in due time.
We hung out in that room with them for about 10 minutes or so and Ray played air guitar with a pool stick by the window when he thought we weren't watching. Sam and Jenna told us about tutoring because I asked and they said they only have 1 more year of that. They start in Sept. like everyone else. Jess seemed really excited to be graduating soon! Haha we all are I think when we're in high school.
And then Jajube walked in and she is also the sweetest person ever (I'm saying this about everyone aren't I?). She's really chatty like Chante but a lot nicer. Just a great person to talk to!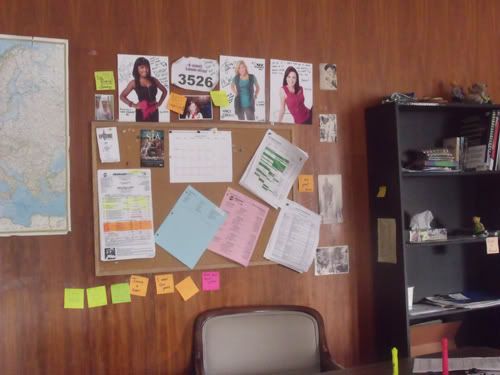 This is their wall with pictures the cast randomly put up. Ahaha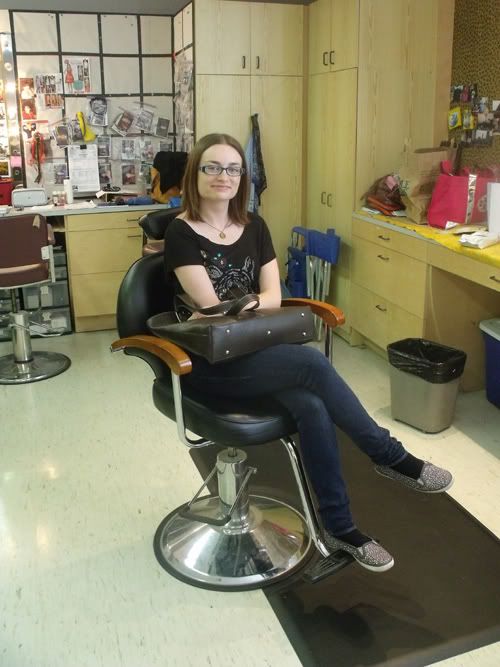 Next: hair & makeup! This is me sitting in the makeup chair. Jajube was also there eating an orange and getting her makeup done. Lol. The hair & makeup people were (also) so nice. We asked them what kind of makeup they use on Fiona and this guy told us lots of MAC. Of course! ♥. Fiona gets a ♥ everytime I mention her in this review.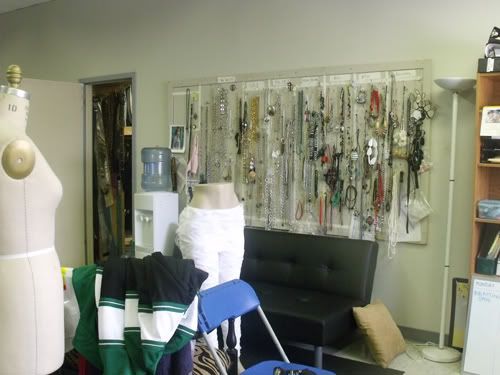 Then my favourite part was COSTUME!! Look at all the jewelry omg!!!
We saw a dress they were making for someone that I shouldn't talk about….
ME IN A PANTHERS JACKET!!! The guy working in costume was sooo nice and welcoming. He showed us around and answered all of our questions. He held up this jacket for me to wear! I can't believe how sweet they all were, going out of their way to show us stuff.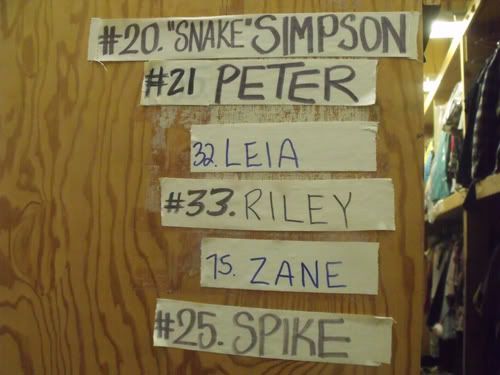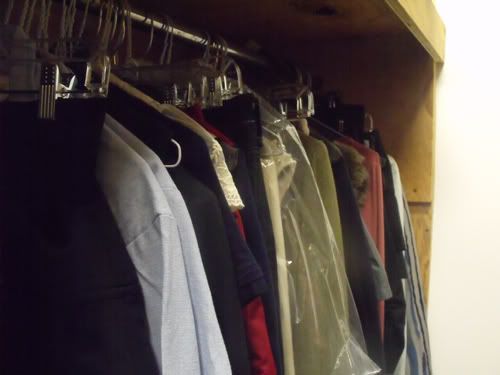 Kiley & I both personally requested to see Fiona's wardrobe, so he took us to exactly where it was. They have this room with rows and rows of clothing all marked by character. He was like "try on whatever you like!" so we went and rummaged through it all. We didn't actually try on anything literally but we did pull out every piece and see where it's from. The vast majority was from Forever 21. But the wardrobe guy also told us about a great store in Fairview mall where you can get really expensive looking dresses for cheap. He says he gets a lot of Fiona's party dresses there!
Vanderbilt jacket! We should've tried this on. Lol. I was afraid of wrecking everything!
sooo much jewelry ♥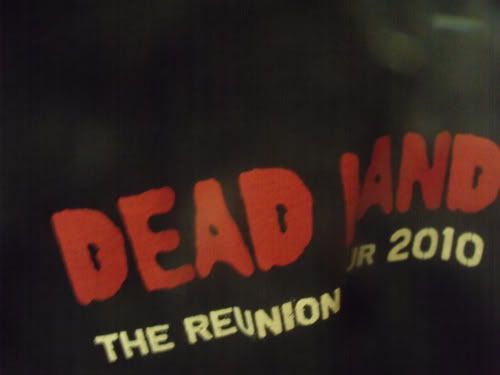 Dead Hand t-shirt in Eli's wardrobe. He also had a lot of leather there of course! He also said that Eli was a really fun character to dress!!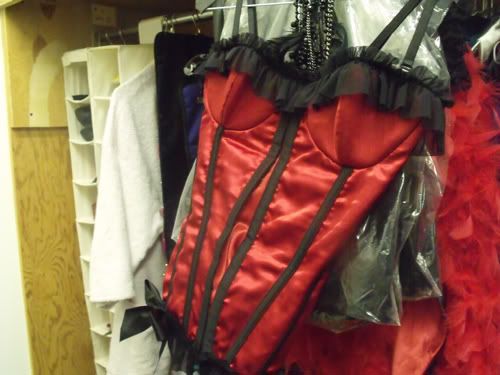 The wardrobe guy (why don't I remember your name? I keep saying "wardobe guy") was like "now if you like Fiona's clothes you must love Holly J." So he took us to Holly's J's area too. She also had a lot of nice things, many of which came from Forever 21.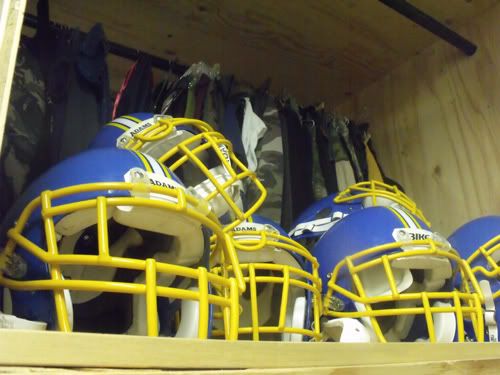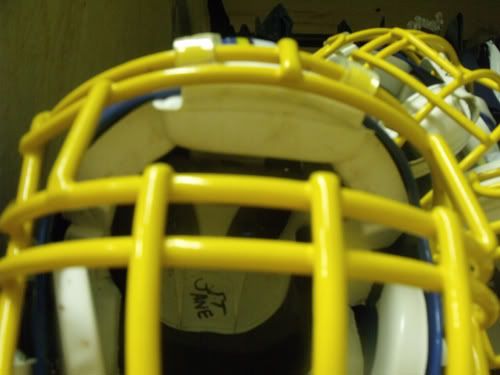 Football helmets! And they had the character's name on the inside. You can see Jane's name in the 2nd picture on the bottom.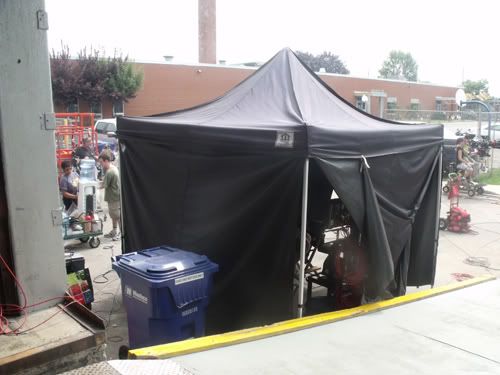 Then we got to go outside, and they were filming a scene in front of the school. This tent is where the director sits to watch the action on a monitor. I guess it's so they can still see the screen clearly even when its being shot outside.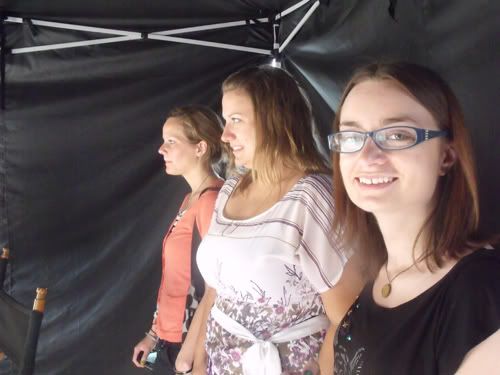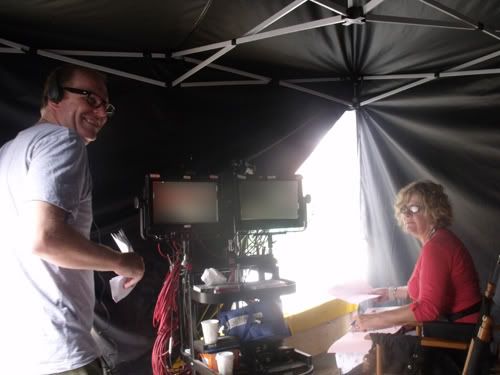 After running around for a bit to avoid getting in the way of filming (it was a bit hectic – they kept stopping and then starting again) we got to stand behind the director! You guys probably know from twitter that Stefan is directing the episodes that they are filming right now. It was so cool to be in there. Stefan would just sit there and watch the scene (obviously I can't say anything about it…), laugh at random things, and then yell "cut!"
You guys can figure out from Twitter that it was a scene involving Sam and Jessica, but the details of the scene I can't say! Just that they both did a really good job (from what I saw). I have pictures but obviously I can't show you guys yet. They were wearing sweaters and it was sooooo hot out. I felt sorry for them actually. I would not be able to act in that kind of heat, let alone wearing a sweater!
Once the scene was cut we got to talk to 2 women who were working there. They gave Kiley & me a bit of a Degrassi quiz which was actually quite easy. The first question was "what kind of pants was Emma wearing in the very first episode?" Kiley got that one right away. Then they asked us about Griffin and who played him – easy. They asked us about Marco's boyfriend and we were like which one? Hahaha. They concluded that we really were the ultimate fans. And as we were leaving we heard them say that this is why they make the show – for people like us. It's just amazing to see the dedication everyone at Epitome has to the show and its fans.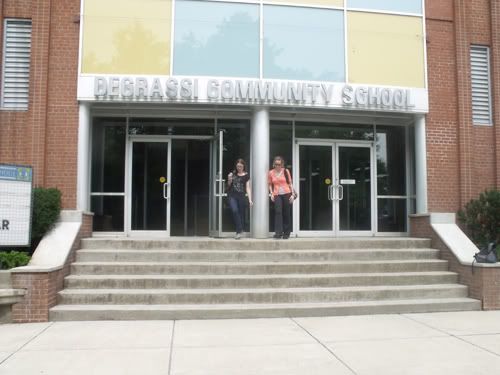 of course the infamous picture outside of the school. This was really hard to take because it was so sunny and I didnt want to look up for very long! But no trip to Degrassi would be complete without these pictures. Abby and Krista took the pictures for us – so nice of them. And Jess & Sam were sitting right inside at the time.
This is the back lot where all the houses and stores are. A school bus and an interesting poster.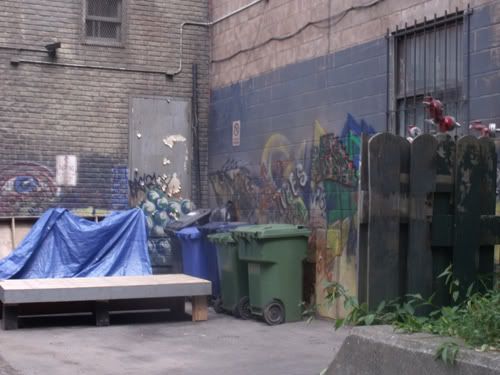 Where Eli got beat up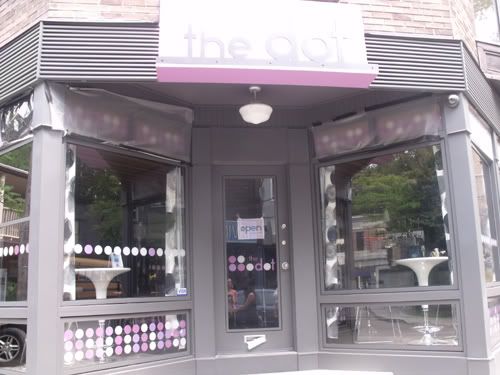 The Dot! We couldn't go inside though because it was locked. But we were able to take some pictures outside.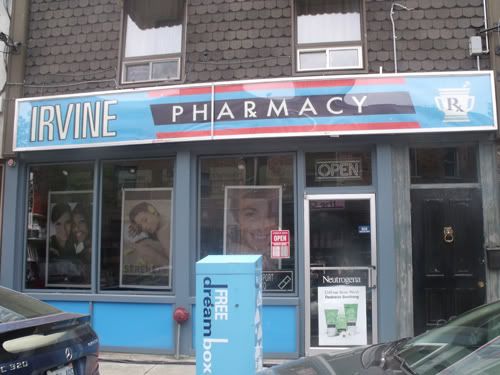 The drugstore.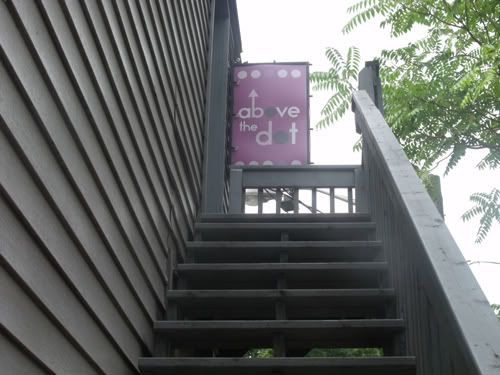 Above the Dot! Except if you walk up these stairs it leads to nowhere. It is connected to the Dot though!!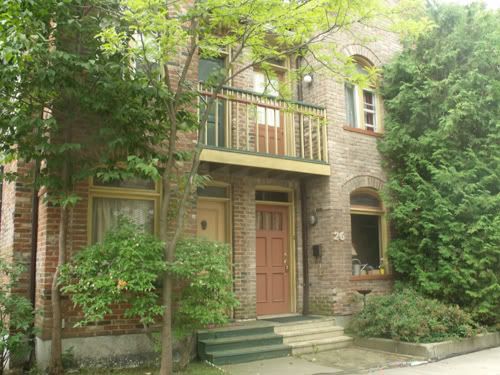 Clare's house!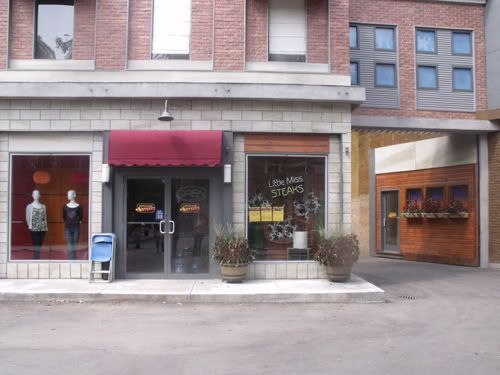 Where Holly J works now! They have an outside set for it too.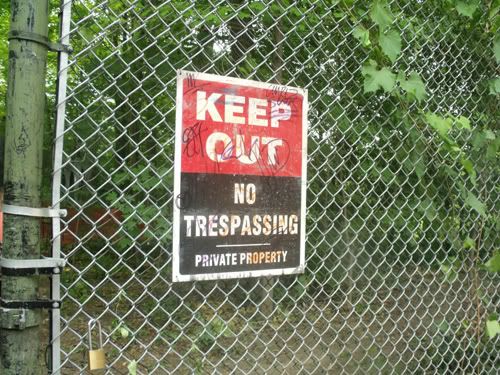 And this is the beginning of the ravine. Obviously the Degrassi kids tend to ignore this sign…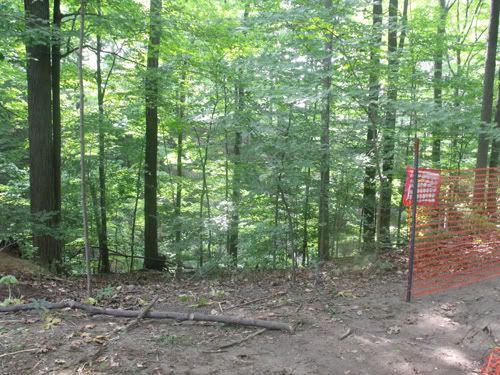 Inside the ravine is a lot of trees… and something else I can't tell you guys about. I have pictures that I will eventually release when the episode airs. All I can say is that it is one of the most amazing sets we saw that day. And they were filming there on Friday night. How they built it is just incredible. But as of right now my lips are sealed!
The very last thing we had to do was film a short 30 second video of me thanking Degrassi & Neutrogena for the experience. I am no actor, but Kiley thought I did well at least…. We filmed it in this classroom. I hope I didn't look like an idiot.
On our way out we went back to the cafeteria where they offered us lunch!! It was so sweet of them. We got to take whatever we wanted to go. They have all these trays out with all sorts of food – vegetables, meat, everything! Such a wide variety of selection. They also gave us a Degrassi bag full of cool stuff to take home!! We were so surprised because a set tour is enough of a gift! This was just a bonus.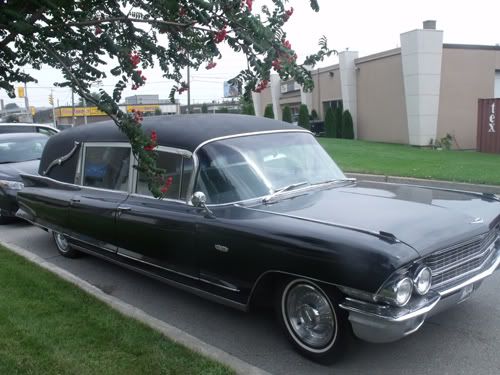 Outside our car was waiting, but we really wanted to take a picture of Morty before we left! They moved him onto the street because they were filming. So Krista took us out there and she let me sit inside!! Omg I KNOW YOU ARE ALL JEALOUS!!!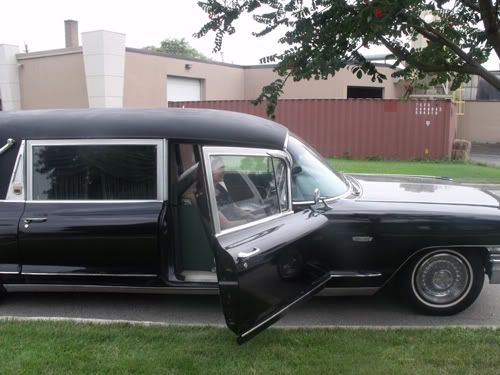 This is me inside Morty (although Kiley has a better picture I'm going to steal from her soon). So what is Morty like? Well he is really big on the inside. And he kind of smells like old person. Krista said they got him from Newfoundland!! LMAO how hilarious is that? It was definitely a comfortable seat and I could see why Eli drives him around so much. Sweeeeeeeet.
Then we said goodbye to everyone and our wonderful driver drove us home. Kiley and I were both freaking out because it was such and amazing day. Just everything about it – from seeing all the sets, to taking pictures, to meeting all the wonderful people who work on this amazing show. I've always heard great things about the people who work at Epitome and all of that is completely true. I don't think Kiley and I stopped smiling at all the entire way back to the hotel.
But wait there's more!!!!!!!!!!!!!!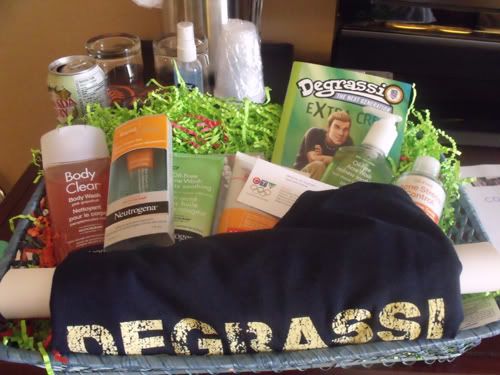 Once we opened the door to our hotel room, I immediately ran over to my bed to put my bag down because it was getting really heavy. Kiley laughed at me because I walked right by this huge gift basket left for me from CTV!!!!!!!!!!! It was such a surprise. Because we already got the bags from Epitome – so to get another gift was so exciting! Inside was a bunch of Neutrogena products (I am officially set for life), Degrassi tattoos, a Degrassi t-shirt, one of the graphic novels, and a soundtrack. But the best part was this huge cast photo autographed by everyone!!! It's this really long season 9 poster and has sooo many autographs on it!!! I nearly died! Definitely going to be framed and going up on my wall.
Then Kiley & I opened our bags we got from Epitome and came back to life only to die once more!! Inside was another one of those posters, a towel, t-shirt, and a folder with a bunch of 8×10 autographs and… get this… a DEGRASSI SCRIPT!! Mine is to Degrassi Goes Hollywood part 4. And its autographed. And its like the complete original script!!! So that is definitely going to be framed and put up on my wall. And no, I am not selling it on Ebay anytime soon!!!!
So that was basically our entire Degrassi experience!! I cant say enough how much fun it was. I hope you guys enjoy all of the pictures I took and reading this ridiculously long blog entry. If you made it all the way to the end I applaud you! Degrassi forever! ♥
To see ALL of my pictures full size click here!